USGA Announces Opening of Entries, Exemptions for 2nd U.S. Adaptive Open
Entries will close on May 4; first-time exemptions categories announced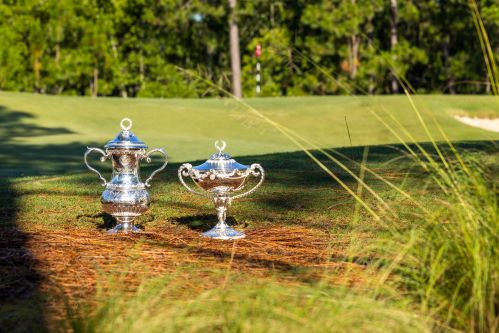 LIBERTY CORNER, N.J. (Feb. 27, 2023) - The United States Golf Association (USGA) today announced that entries are open for the 2nd U.S. Adaptive Open Championship, to be contested July 10-12, 2023 at Pinehurst Resort & Country Club's Course No. 6 in the Village of Pinehurst, N.C.

Entries for the second playing of the U.S. Adaptive Open – a national championship that debuted last year and showcases the world's best adaptive players – will close on Wednesday, May 3 at 5 p.m. EDT, with the final field to be posted on approximately May 22. Eligibility is open to both male and female professional and amateur golfers with a World Handicap System (WHS) Handicap Index® of 36.4 or less and an eligible impairment confirmed by a WR4GD Pass. In addition, by the close of entries, players must have posted the equivalent of eight new 18-hole scores since May 4, 2022 (this does not apply to exempt players).
Those interested in applying to play can do so by clicking here.
The field will include 96 players, with at least five male players and two female players per Impairment Category. Impairment Categories are:
Arm Impairment
Leg Impairment
Multiple Limb Amputee
Vision Impairment
Intellectual Impairment
Neurological Impairment
Seated Players
Short Stature
A player's individual Handicap Index® will be the primary factor for determining the field. Additionally, up to 20 spots will be filled by a USGA Selection Committee to assure representation from key demographics.
The championship will be contested over 54 holes of stroke play, and multiple sets of tees will be utilized. Carts will be permitted for all players and caddies.

Based on the Inaugural Championship, the USGA announced the following exemption categories for the 2023 U.S. Adaptive Open:
Overall winners of the 2022 U.S. Adaptive Open Championship (this is a five-year exemption):
Kim Moore (Women's)
Simon Lee (Men's)
From the 2022 U.S. Adaptive Open Championship, the five lowest overall female scorers, plus ties:
Kim Moore
Ryanne Jackson
Mandi Sedlak
Grace Anne Braxton
Natasha Stasiuk
From the 2022 U.S. Adaptive Open Championship, the five lowest overall male scorers, plus ties:
Simon Lee
Felix Norrman
Chad Pfeifer
Kipp Popert
Jordan Thomas
From the 2022 U.S. Adaptive Open Championship, the lowest female scorer and lowest male scorer from each Impairment Category, plus ties:
Arm – Cathy Walch (Women's) and Conor Stone (Men's)
Intellectual – Grace Anne Braxton (Women's) and Simon Lee, Felix Norrman (Men's)
Leg – Kim Moore (Women's) and Chad Pfeifer (Men's)
Multiple Limb Amputee – Cindy Lawrence (Women's) and Jordan Thomas (Men's)
Neurological – Ryanne Jackson (Women's) and Kipp Popert (Men's)
Seated Players – Annie Hayes (Women's) and Dennis Walters (Men's)
Short Stature – Kurtis Barkley (Men's)
Vision – Amanda Cunha (Women's) and Kiefer Jones (Men's)
All exempt players must complete the application process by the close of entries.
In an effort to better showcase the incredible athletes in the field, the USGA recently moved the championship from its original dates (July 17-19) to July 10-12 so its broadcast partner could present in an enhanced way.
About the USGA
The USGA is a nonprofit organization that celebrates, serves and advances the game of golf. Founded in 1894, we conduct many of golf's premier professional and amateur championships, including the U.S. Open and U.S. Women's Open Presented by ProMedica. With The R&A, we govern the sport via a global set of playing, equipment, handicapping and amateur status rules. The USGA campus in Liberty Corner, New Jersey, is home to the Association's Research and Test Center, where science and innovation are fueling a healthy and sustainable game for the future. The campus is also home to the USGA Golf Museum, where we honor the game by curating the world's most comprehensive archive of golf artifacts. To learn more, visit usga.org.
For further information: Jonathan Coe, USGA Communications, jcoe@usga.org